Features & Screenshots
This package provides following features.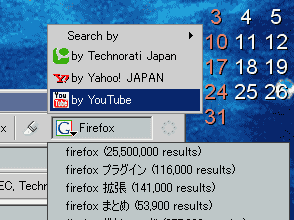 In the web-search bar, press the Up key or type some words into the box. Then, a tiny popup will appear above (or left/rightside) the search bar. You can choose an engine by Up or Down key. After you press the Enter key, Firefox searches the terms by the highlighted engine. This feature calls the engine directly, so the state of the default engine of the search bar doesn't change.
But, if you select an engine from the Second Search popup when there is no term in the search bar, Second Search changes the engine of the search bar to the highlighted. If you want this extension never to change the state of the search bar, use the configuration dialog or change "secondsearch.switch.blank_input" to "false" by "about:config".
And, when you drag some text onto the search bar, engines will be popped up too. After you drop it to the menu item, it will be searched by the engine.
Three recently used engines will be shown in the popup. If you want to use other engines, choose Search by and press the Right key. To increase or decrease the number of the recently engines, use the configuration dialog or modify a secret preference "secondsearch.recentengines.num" by "about:config".
Ver.0.4 or later are available on Thunderbird 2. You can switch the search mode of the quick search bar smoothly.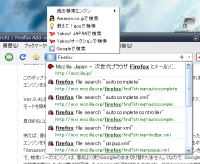 Ver.0.5 or later can start search from the location bar. You'll remove the search bar from the toolbar if you use a small screen.