Screenshots and Features
This package provides following features.
Web Map works as a visual history of the browser. When you load a new page into the browser, a new node (that is a metaphor) for the page will appear on the map automatically. And, when you traverse pages with links, nodes are also linked with arcs (metaphor of links.) Moreover, when you click a node on the map, browser loads the page of the node.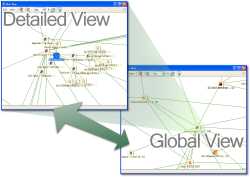 This has two modes; "detailed view" shows all nodes completely, "global view" shows nodes for each domain sketchily.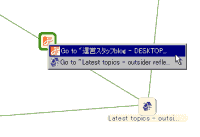 Clicking on arcs shows a popup, and you can go to the anchor node or the target node of the arc in an instant. When you double-click on the arc, you'll go to one of them automatically.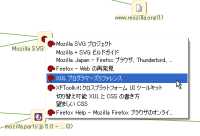 In the global view mode, each node pops up the list of pages of the domain. You can access each page directly from the popup.

This extension is developed supposing that you put the Web Map window on the top of desktop always, and you point on the toolbar to expand window with your needs. (Preferably, I recommend you to use this extension like above. Because, the Web Map window requires times to initialize itself on the startup. If you close and open the window frequently, each initializing will take you times.)