Features & Screenshots
This package provides following features.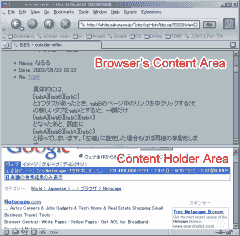 After installation, the holder area is shown in browser windows.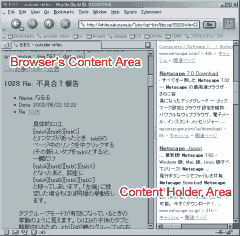 To resize the area, drag the splitter please.
You can take pages into the holder by drag and drop in the context menu.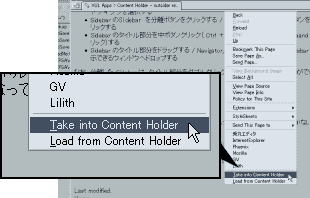 In the content holder, you will see an special context menu (right-click menu) for the holder. You can call default context menu of browser with Shift+Right Click. (But some features of the menu will not be available for the content holder.)
You can stock favorite pages to the Content Holder, and load them anytime. To stock a page, you should take a page into the holder and select the item Stock This Page in the Stocked submenu of the context menu.
Content Holder provides some keyboard shortcuts, following:
Ctrl(Command)+F9

Shows/Hides Conten Holder.

Shift+Alt+Down

Takes the current page into the Content Holder.

Shift+Alt+Up

Loads the holded page into the Current Tab.

Shift+Alt+Right

Opens the holded page in New Tab.

Shift+Ctrl(Command)+F9

Shows Stocked submenu.